SERVING ALL TARRANT COUNTY

We pull city permits and have city inspections.

Providing residential/commercial plumbing services.

No job is too big or too small.

Mon - Fri 7:30am - 5:00pm Emergency Service Available 24/7

Insured * Bonded * Uniformed

ROMANCE SERVICES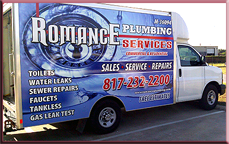 Romance Services is a plumbing company serving Tarrant County.
No job is too big or too small.
Licensed
Insured
Bonded
Uniformed
All employees have had an extensive government background check as per federal law.

We have contracts with the City of North Richland Hills, Avalon Correctional Facilities, and the City of Fort Worth which includes the Convention Center and Botanical Gardens. In addition, we have several contracts with retail maintenance providers.

Besides our contracts we are a full service residential and commercial plumbing company.
Our goal is providing the very best service with the customer's best interests at heart.